Art At Your Fingertips for PMP Students (Starry SoCal)
Art At Your Fingertips (AAYF) is the Palos Verdes Art Center's visual arts outreach program which brings standards-based education to local schools and aims to help participants feel comfortable using art as a means of expression.  Five AAYF projects will be interspersed through out the 2014 – 2015 school year. Each project will be completed in a single session.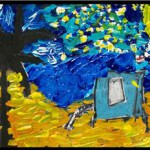 February's project, Starry SoCal, uses Vincent Van Gogh's iconic painting, Starry Night, as the inspiration for this project, teaching students to create the illusion of space and movement by using swirling brushstroke and vivid color. Placing van Gogh's Starry Night in a familiar SoCal beach setting gives this project its unique twist.